Eric Hamber Secondary School


Class of 1978
In Memory
Gordon Kirkwood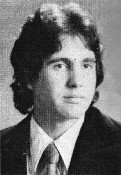 7 October 1959 - 16 January 2000

The world changed in the early hours of the 7th October 1959, when Gordon was born, kicking and screaming to his proud parents Euan and Marion. As a baby, Gordon enjoyed their unrivalled attention, so you can imagine his dismay when Michael was born 23 months later. By the time Nigel and Susan arrived on the scene 4 and 6 years later respectively, Gordon realized that he had to create his own unique character!

Gordon attended Annie B. Jamieson Elementary School, where his primary legacy was a stellar performance in the beanbag and dress-up races at the annual sports day. In addition, his early years were defined by the important activities of ice skating [only for the hot chocolate], being forced to attend Sunday School [to give his parents a long lie in] and Cub Scouts [where as a Cub leader he subsequently terrorized his younger brother]. These activities gave way to his debut at Eric Hamber High School, at which point his academic career went "up in smoke". These years can best be summed up by his Grade 8 English teacher Mr. Calder: "Participation - average; Attitude - poor. Gordon has not made a very impressive start in this course. His major problem is not one of ability but one of attitude". But to be fair to Gordon, his Grade 8 French teacher ranked him somewhat more favourably: "Participation - poor; Attitude - average. Gordon is a likeable student but he needs to apply himself". Evidently, high school increasingly impinged on Gordon's social life, and his class attendance records slumped. He could often be found day dreaming outside, during self-scheduled free periods, planning the next Lummi Island get-together.

In order to support his extracurricular passions, Gordon had to secure additional income. His first experience in the working world came by the way of the finest culinary training in Vancouver - working as the salad bar chef at the Oakridge White Spot. After this flying start, there was no stopping him. He was off to corner the local newspaper market, although it has to be said, his mother Marion more often than not helped him to complete his route. He went on to excel at jobs with more demanding social skills. For example, as a grocery packer at Buy Low Foods, he had to prevent a regular customer [Vanilla Annie] from drinking the vanilla extract off the shelf.

Why real estate next - who knows? After a year out to travel Europe and experience an Israeli kibbutz, he spent a short stint at Langara College and then the next 20 odd years as one of Vancouver's best known realtors. He enjoyed the challenges and the people aspects of real estate, and received several awards of which he could be very proud.

More recently, Gordon found pleasure in travel [to Europe, Hawaii and down the West Coast], his home, his beloved cat Panda, his friends and his expanding family. Gordon was a warm and out-going man who possessed a strong and engaging personality, and made an impression on everyone he met. He was incredibly good with people of all ages, and will be missed by many - including the police who maintain a number of outstanding parking violations in his name. He gave a great deal to so many of his friends, and they will remember fondly his support and loyalty. Gordon had a wonderful sense of humour, somewhat accentuated by his unique laugh. He liked the best in life and had a strong sense of style.

Vancouver will be a poorer place with his loss - we love you Gord, and we will never forget you.